< Back to Blogs
#RelationshipGoals Show Your Customers Some Love with Mobile Queuing
Your relationships with your customers rely on your ability to meet their specific needs quickly. Recent Google research on mobile brand experiences reinforces the idea that speed and relevance are crucial to customer satisfaction. Interactions with brands described as "helpful" are 1.5X as likely to lead consumers to both purchase and recommend that brand, compared to interactions they don't find helpful. And nearly 9 in 10 smartphone owners who describe a mobile brand experience as helpful or relevant would purchase from the brand again.
Your customers have high expectations for the experience they have with your brand on their phones. So much so that even a "neutral" experience (not bad, not good) can have a negative impact on a brand.
Now think about how this research applies to an area of business that, for many customers, defines their impression of a business more than any other factor. Waiting lines.
Looking at how you manage waiting lines across one or multiple locations—banks, retail stores, medical facilities, etc.— opportunities exist for mobile queuing to create a faster and more relevant process for your customers and your employees.
HOW MOBILE QUEUING CAN STRENGTHEN YOUR CUSTOMER RELATIONSHIP
With a mobile-enabled virtual queuing system, you can put speed and relevance in the hands of your customers. Allow them to pre-schedule their wait conveniently from their own mobile device, like "calling ahead" for service. You can also disperse waiting crowds and help the wait time feel shorter with a virtual queue system that notifies customers via their mobile device when their turn has come. Customers can reschedule or postpone their arrival if they need more time, and can keep tabs on the status of their wait in real time.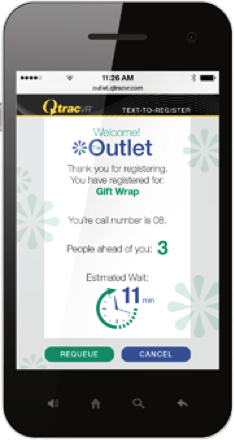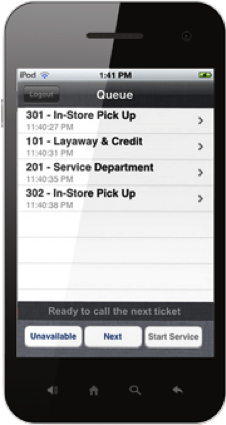 On the side of managers and service agents, a mobile queuing app can empower associates to better serve customers by giving associates visibility into customer traffic, preferences, and by allowing the business to automate key queuing functions.
Mobile queuing has the power to shorten wait times and better meet the needs of each individual customer. #relationshipgoals achieved.